PAYMENT FOR DONATIONS

2D GATEWAY PAYMENT
CIS FOR PCB FOUNDATION
Certificate of Registration (Thai)
Certificate of Registration (Translated Version)
PCB FOUNDAION BANK ACCOUNT DETAILS:
Bangkok Bank (Bangkokthonburi University Branch):
Saving Account: 047-8-XXX2-2
Current Account: 047-3-XXX0-1
Demonstration VDO on Gateway Payment (Bangkok Bank)
PAYMENT STEPS:
STEP 1 Download and Install or Open your Online Banking Apps for the bank account in which the transferred money is available;

STEP 2 Select [--] SCAN and Scan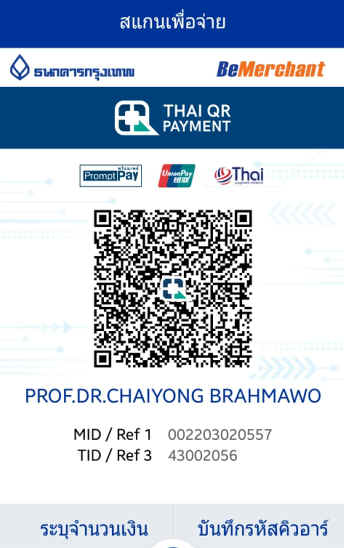 STEP 3 Put PIN CODE
STEP 4 Fill up the Amount of Money to be Transferred;

STEP 5 Check/Review the information on Sender and Receiver.
Check the MID/Ref#1 (002203020557) and
TID Ref#3 43002056

STEP 6 Confirm the transfer if all spellings and information are correct
STEP 7 Save the Pay Slip anf forward it to the Receiver.
WELCOME TO DONATE!
PCB Foundation formulated many projects for Science and Social Development. (Click to see the Titles and Synopsis).
We wish to welcome international donateors to us by donateing in the various projects of your interest.
DONATING PROCEDURES:
1. See the titles and the synopsis of the proposed projects in the List and the proposed budgets;
2. Select the Project (s) of your interest. Note down the Project Code and the total amount of budget in Thai Baht or USDollars or Euros.
3. Download and fill up the Deed of Agreements for Donations (DOA) Click to download DOA Form
4. Download and fill up Customer Information Summary (CIS) and attach it with DOA. Click to download CIS Form
5.Optional: Sign the Letter ofIntention to Donate at the end of DOA documents.
6. Submit the DOA to us my email, Line, Whatsapp or other social media:
E-mail: CEO@PCB Foundationcorporation.com
LINE ID: 0855949505
Please help us elevate the wellbeings of our people by donateing in the project of your choice.
Thank your for your anticipated donations.
ขั้นตอนการบริจาคด้วยการโอนเงินต่างประเทศ
เข้าธนาคารในประเทศไทย
(ต่างธนาคารอาจต้องการข้อมูลต่างกันเล็กน้อย)

1. ดาวน์โหลดและติดตั้งหรือ (กรณีมีอยู่แล้ว) เปิด Online Bank Apps สำหรับธนาคารที่มีเงินฝากที่จะโอน

2. กดปุ่ม โอนเงิน และเลื่อกโอนเงินต่างประเทศ (Transfer>>Foreign Transfer)

3. เลือกตระกูลเงิน: US Dollars, Euros, Pounds

4. ระบุจำนวนเงินในตระกูลเงินที่จะรับโอน

5. กรอกข้อมูลบัญชีธนาคารที่จะรับโอน ประกอบด้วย
BANK NAME:
BRANCH:
BANK ADDRESS:
ACCOUNT NAME:
IBAN/ACCOUNT NUMBER:
(IBAN จะมี ACCOUNT NUMBER 9-10 ตัวเลข อยู่ตอนท้ายของ IBAN)

6. ตรวจสอบข้อมูลจำนวนเงินที่โอน ผู้โอนและผู้รับโอน

7. หากข้อมูลถูกต้องให้ กด ยืนยัน Confirm


SUGGESTED STEPS FOR FOREIGN MONEY TRANSFER:
GOOD LUCK!